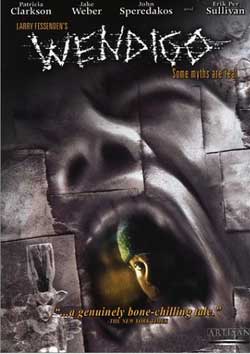 SYNOPSIS:
A blue Volvo makes its way through the fading light this chilly winter evening in upstate New York. Kim (Patricia Clarkson), George (Jake Weber) and their 8-year-old son, Miles (Erik Per Sullivan), are city dwellers stealing a weekend away at a friend's country farmhouse. But a fluke accident sets off a chain of events that alters their lives forever and conjures up the ferocious spirit of the Wendigo, a Native American myth made manifest in Miles' imagination.
REVIEW:
Rich in uncomfortable dread, "Wendigo" is a perfect example of creator (Director/Writer) Larry Fessenden's brilliant work. From start to finish this film provides a starkly "particular" offering of looming coldness to its presentation that can only be described as horror film mastery. I've long been a fan of Fessenden's work due to his remarkable ability to relate to the horror genre on a subconscious and emotional level that reaches down deeper than many of his peers. "Wendigo"  is just that.
From the first act we are quickly thrust into our main character (Jake Weber) George's frustration and nervousness as he and his family become momentarily stuck in an off-road accident (struck by an oncoming Buck). George, who manages to control the situation pretty well finds himself having to deal with both being stranded and a wild pack of local hunters who just happened to be hunting the same deer George's car ran into.
Things go as good as they can with the exception of a snarky local who confronts George about his unfortunate accident and the damaged Buck that now lays off road. Otis, a local hunter played by John Speredakos provides a perfect segue into George and his family's introduction to the great outdoors and the quirky folks who comes with it. What is "thought" to be a family getaway becomes a bit of a nightmare and constant source of concern as they are ushered into a tone of bad luck.
Local, Otis, while never quite directly entirely interfering (at first) seems to provide the perfect symbol of the un-welcoming local whose appearances are enough to inject concern and terror. Director Fessenden provides just enough carefully placed instances to seal the deal in this area.
George, an overworked photographer for a Manhattan advertising agency soon discovers that sometimes getting away from the stress of the city can introduce a whole new set of worries. His psychologist wife Kim played by the alluring Patricia Clarkson tries her best to use her analogies in the interest of staying grounded among their questionable environment. Even with the week being regarded as a "getaway vacation" for the 3 of them, it becomes clear that they all might be alot more suited (and comfortable) with heading back sooner than later.
Fessenden captures this sense of dread perfectly, as the family begins to manifest their fears in a number of different ways. Their son Miles, a troubled but quiet boy manifests an urban myth called the Wendigo that originates from Indian folklore. His imagination combined with the stress of his family and the fear of locals drums up something otherworldly appearing in the form of a man-deer-tree entity that is said to arise in the presence of darkness.
The film cleverly blends a sense of the fantastical within the isolation of a small Catskills town that doesn't take the most warmest of embrace to city folk invading their lives. Even as the line between right and wrong is drawn  the film "Wendigo" never lets us forget that it is the outsiders who are in fact invasive into the locals ways. Somewhere along the line, a Wendigo is invoked to inflict vengeance on those wronged. in this case it is Miles father "George.
The editing and cinematography here is so outstanding that while the film is a poster child into independent film making, it does so with a careful eye and planning that presents its various fantastical elements richly and inventive.
Larry Fessenden not only directs this piece, but inject his own personal style that makes use of photo-collage skip framing, blurred montages, puppetry, composition twists, dream sequences, and a score that brings in all together under an eerie shell.
Larry Fessenden appears to love creating films that not only present themselves in a cold fashion but that are literally shot in colder climates often using the element of snow and forests as indicators of isolated surroundings. The film is a must see if only to demonstrate how art and film can comes together in great ways.
EXTRAS:
NEW Director-Approved HD Transfer
NEW Audio Commentary With Writer/Director/Editor Larry Fessenden
NEW Audio Commentary With Actors Patricia Clarkson, Jake Weber And John Speredakos
Searching For The Wendigo – Behind The Scenes Featurette (2001)
Interview With Larry Fessenden (2001)
Wendigo: Animated Series Trailer
Short Film Santa Claws (2008)
Theatrical Trailer
Glass Eye Pix Sizzle Reel (2010)
Wendigo can now be found on the special Larry Fessenden bluray collection released under Shout Factory